Friday, 5 February 2021 - Reviewed by Ken Scheck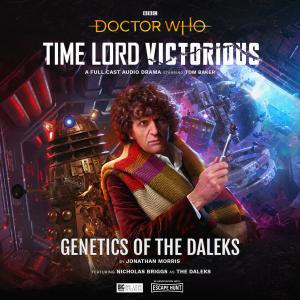 Writer: Jonathan Morris
Director: Jamie Anderson
Featuring: Tom Baker, Nicholas Briggs, Pippa Haywood, Joseph Kloska, Clive Mantle, Andrew James Spooner, & Nina Toussaint-White
Big Finish Release (United Kingdom)
Released December 2020
Running Time: 1 hour
The Fourth Doctor gets in on the Time Lord Victorious action, sort of. This story does feature Daleks but in terms of the TLV business, that is mostly used as a warning of what the Doctor can become. This is not really an adventure where time is askew or involves some ancient creature from the Dark Times...but it does feature a Dalek telling the Fourth Doctor of what kind of person he may potentially come...the Time Lord Victorious.
Tom Baker is quite good here. I remember when he was first returning to the role on audio, I felt he still had it but you could tell he was so much older than when he was the Doctor on screen. I've not had the pleasure of listening to all of his output since he began reprising, but based on this? He has really settled back into the role perfectly...and sounds as if we were back in 1976.
In the end, there isn't much to say about this one. It is yet another slick production from Big Finish, with a great performance from an all-time classic Doctor, and (of course) the Daleks. It feels very disconnected from the Time Lord Victorious series (despite actually name dropping Time Lord Victorious), and can easily be enjoyed as just another fun Tom Baker/Dalek adventure.