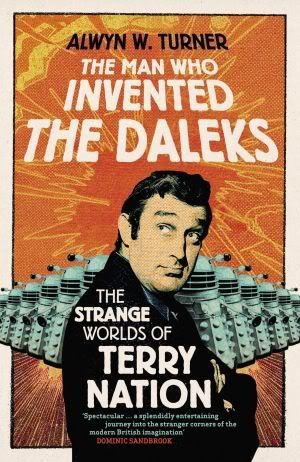 Terry Nation: The Man Who Invented The Daleks
The Strange Worlds of Terry Nation
Alwyn W Turner
Aurum Press (Book)
RRP £20.00
To be clear from the outset; this is not strictly a biography of Terry Nation. Whilst it does examine his life to a large degree and contain a fair amount of biographical detail, it is more of an examination of his work in context of the times, both social and political. And whilst the book's approach is not always linear and often groups together Nation's work for better comparison, in doing so it takes an honest and objective approach to the subject.
Unlike the previous book on Terry Nation, Bignell and O'Day's very disappointing
Terry Nation
(Manchester University Press 2004), this admirable tome covers the whole spectrum of Nation's work, across the media on TV, Radio, film and his two novels, rather than just his three main SF creations. So we travel from his tentative early radio work to his final few pieces for American television. Obviously there is much coverage of Nation's SF work and in particular the Daleks. Not surprising, given the importance of their creation and reappearances in Nation's life, but the book also gives a detailed examination of his work on ITC series (
The Saint
,
The Champions
,
The Persuaders
and the like) and the final series of the original
The Avengers
.
As I mentioned earlier, the book is not a detailed biography of Terry Nation. At times it is rather brief on some personal details. His wedding to Kate and the birth of his son Joel are only mentioned in passing. Whilst the birth of his daughter, Rebecca, is not mentioned at all! In fact you would only know that he had a daughter, because of the book that he wrote for her:
Rebecca's World
. But Turner is accurate in his belief that it is one of Nation's best pieces of work.
It was good to read the details behind Nation's 1972 Drama Playhouse episode
The Incredible Robert Baldick
. A programme that I have always viewed as 'the one that got away', as it had series potential, and it is good to see that Turner agrees. The format of a gentleman adventurer travelling Victorian England, investigating the supernatural was sadly ahead of its time and is ripe for rediscovery.
Whilst Turner is correct in championing Nation's legacy and that his three big creations (Daleks,
Survivors
,
Blake's 7
) all enjoyed a renaissance after his death, he is a little anti the new
Survivors
, which is odd given what producer Terence Dudley did to the original series after Nation's departure. His assertion that in the second series of the remake "there was little left resembling Nation's original work" is rather sweeping. I personnally felt that the second series was more coherent as a whole and that it did contain some Nationesque themes. Particularly, the fourth episode wherein Tom and Greg are put to work in a mine by feudal overlord Henry Smithson (Christopher Fulford); a scenario that would have fitted in with Nation's original first series perfectly.
As Turner observes, the great tragedy of Nation's life is that having moved to America in 1980, he was to spend the last seventeen years of his life caught up in the studio system and sadly only notch up four writing credits.
In such a work, there are always likely to be a couple of mistakes or omissions. Such as in the précis of Nation's second series
Blake's 7
episode
Countdown
, where he has Blake, rather than Del Grant defusing the bomb with Avon.
Also, in covering Nation's desire that the Daleks did not become figures of fun (goodness knows what he would have made of his agent's u-turn since 2005), Turner details the one exception to this: The 'Pakistani Daleks' sketch in Spike's 1975
Q6
series. Although he is correct that Nation allowed it as a favour to Milligan, he somewhat surprisingly omits mention of the fact that Milligan was initially turned down by Nation's agent and it was only when Milligan personally wrote to Nation (and reminded him of how he had helped the younger, struggling Nation) that the sketch went ahead. This is a very surprising omission given the sheer amount of research that Turner has done and the information on Nation's work that he does include.
As these are the few examples of what is wrong with the book, they certainly do not detract from what is one of the best books concerned both with
Doctor Who
, and British television in general, published for many years.
I heartily recommend this book to anyone either with an interest in Terry Nation or television production from 1960 to 1980. And although you might not always agree with Turner's comments, they are strongly put. One final thought: In nearly 300 pages of text (plus a thorough list of Nation's writing credits), there is not one mention of Terry Nation's predilection with the name Tarrant. Refreshing!