…Or six go on an adventure in Space and Time.
I was lucky enough to get an invite to the Bristol unveiling of the new BBC and Escape Hunt collaboration, When Worlds Collide. An escape game with a Doctor Who twist, where you and a group of friends are locked in a room, and must help the Doctor by solving a series of puzzles that will stop the Cybermen breaking through a tear in space and time, and into this reality. The arrival of this new, very immersive game is extremely welcome in a year where there is no more new Who on television, and no exhibition in Cardiff.
I gathered five colleagues who were also fellow Doctor Who fans (Rhona, Nikki, Sarah, Stacy and Jack) and headed to Escape Hunt, at Cabot Circus in Bristol, to battle the Cybermen, and help the Doctor.
The game area can only be accessed by a lift, that added to the mystery, we were greeted by a friendly member of staff, and ushered to a cosy waiting area, where the last lot of intrepid adventurers were having a group photo taken. All of them were grinning from ear to ear, and waving sonic screwdrivers triumphantly.
Axel was our host for the evening, he told us that everyone who had played that day had successfully escaped the game (no pressure at all then)! We were politely asked to wait for a few minutes while the team went about 'resetting' the room, then after locking away our mobile phones, and enjoying some welcome snacks and drinks, we are told by Axel that our time had come.
We were guided to an imposing looking door, where we gathered around and listened to Axel explain to us the rules of the game, he also reassured us that he would be watching remotely at all times, and would happily offer up hints and tips should we need them. He then gave an embarrassed and apologetic look as his mobile phone started to ring, pulling it out of his pocket, he glanced at the caller ID and, with an excited glint in his eye, showed us who was calling...…and THIS is exactly when our adventure started.
I'm not going to give any spoilers, I think that would be a disservice to all of those who have have worked so hard to create the wonderful atmosphere of the game. If you have taken part in an escape room before, you will be familiar with the format. You are essentially ushered into a room full of clues, puzzles and red herrings, where you need to work together as a team to progress. The types of puzzles we had to solve covered all bases, from lateral-thinking through problem solving and a bit of physical agility. We rushed around manically, while a countdown on a large screen relentlessly ticked down from sixty minutes towards zero.
But of course this escape room had a big theme Some of the puzzles had a Doctor Who feel, plus there were some rather familiar looking props strewn around the room, some of which were an integral part of events. The game itself progressed through two rooms, each one strewn with Doctor Who easter eggs, some of the puzzles were really quite fiendish, some quite straight forward. If we were found to be really struggling, completely off track, or generally being thick, Axel's encouraging voice would come over the intercom and offer us a bit of gentle guidance, not exactly telling us how to solve a puzzle, but offering a hint such as "Hey guys, have you thought to look over there?" Then there were the times he'd chip in with the odd sarcastic quip like "I really don't think waiving that sonic screwdriver at that plant will help".
The last few minutes of the game were quite intense. I honestly thought that we were going to be the first losing team of the day, but fuelled on by clouds of dry ice, great audio effects, and some restless Cybermen, we scraped through by the skin of our teeth, and escaped through a set of very special doors with just two minutes to spare.
After our escape Axel took us back through the game, offering a commentary on where he thought we did well, congratulating us on our team dynamic, and praising how at one point we all split up to try to crack a puzzle independently, in order to save time.
Back in the lobby, we all posed for our celebratory photo, eagerly brandishing a thirteenth Doctor sonic screwdriver. We left on a wave of adrenaline, with a certificate declaring that we had completed the game in twenty-eight minutes, not fifty-eight (don't worry Axel - we won't tell)!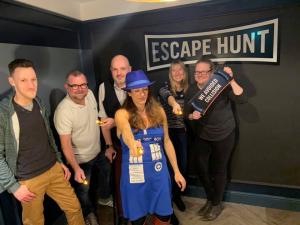 The gameplay itself is a very immersive and enjoyable experience, where you do really feel like characters in a Doctor-lite episode. The lower age range for players is ten years old, and while there is nothing age inappropriate about the game for children around that age, I'm not sure what your average ten year old would get out of the experience. We had a team of six adults, who all agreed that we would have really struggled without Axel's gentle guidance. I would say you need at least a team of four to get the full benefit, but with pricing ranging from £30 - £33 per head, and no discount for children, that isn't necessarily a cheap hour. But - we fans generally have very deep pockets and are faced with year with very little new Doctor Who. Plus it's the nearest any of us will get to being a true companion.
Doctor Who Escape Hunt is open in Bristol now, bookings can be made HERE. The game will be coming to Escape Hunt venues in Leeds, Oxford, Manchester, Reading and Birmingham soon.