Wednesday, 4 December 2019 - Reviewed by Ken Scheck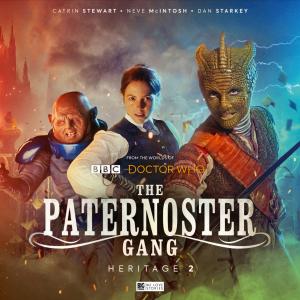 Writer: Guy Adams, Gemma Arrowsmith, & Dan Starkey
Director: Ken Bentley
Featuring: Neve McIntosh, Catrin Stewart, & Dan Starkey
Big Finish Release (United Kingdom)
Released October 2019
Running Time: 4 hours
The Paternoster Gang returns for their second boxset, titled Heritage 2. So far I've not really latched onto any real theme or links between the boxsets or even any episodes, so why they've subtitled it Heritage, and even gone so far as act as if this is a sequel to the first set, I have no idea. They don't need to be linked, just release a boxset of random adventures, who really cares?
This set I overall found less interesting than the first. The opening story (Dining with Death) was especially drab. It felt so bog standard. A couple of warring alien races who despise each other trying to find some sort of diplomatic solution, and somehow Madame Vastra becomes their mediator. The two races feel vastly different about everything! What one finds mormal the other finds appalling...how will they find common ground. I've forgotten most of the details already.
The second story, The Screaming Ceiling, I found to be the best of the set. It has a creepy old house that may be alive and eating people. Not too far from feeling like fairly standard Who fare, but it was well executed at the very least.
The set concluded with a story about the legend of the titular Spring-Heeled Jack. A man or creature from British lore that had batwings, spit blue fire, red glowing eyes, and could leap higher than most men. It's exactly the sort of legend you expect Who to explore. In fact it has in and Eighth Doctor comic from Doctor Who Magazine. I'm surprised the show proper has yet to dive in to it. That said I have been indifferent to both takes on it so far, so maybe it is better left alone.
Overall, I wasn't that impressed with this set. When the first set came around, I worried I'd find it uninteresting, but the characters were so charming it earned my recommendation. This second set has done the opposite. I went in expecting charming characters that would hold my interest, and came away completely indifferent. Also, why they are pretending there is some arc with the boxset's subtitle is beyond me.
Associated Products