Wednesday, 30 May 2018 - Reviewed by Callum McKelvie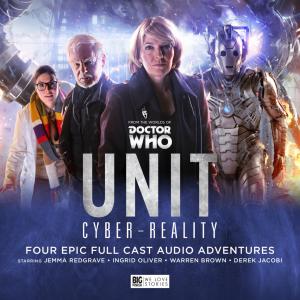 Big Finish Release (United Kingdom)
Released May 2018
Running Time: 5 hours
The sixth series of U.N.I.T, entitled 'Cyber Reality', sees a return to the format of one 'blockbuster' story across four one hour episodes as opposed to the previous series which featured single hour stories only loosely connected. Of course the big bad this time are the Cybermen, though the cover spoils another Who villain who makes his appearance in the final story. The regulars all reprise their roles, with Jemma Redgrave as Kate Stewart, Ingrid Oliver as Osgood, James Joyce as Josh Carter, Ramon Tikaram as Colonel Shindi and Warren Brown as Sam Bishop and the series picks up directly where the previous left of, with U.N.I.T on the hunt of the mysterious auctioneers…
Game Theory- Matt Fiton
'Game Theory' opens the series and sees U.N.I.T being put taught a lesson by the Auctioneers who seek to try and attempt to keep them out of their business once and for all. It's a thrilling series opener, with Kate Stewart and Osgood being forced into a sick game that presents the Auctioneers as a palpable threat and a powerful foe. Meanwhile Warren Brown gets to take the spotlight after being conspicuously absent last series. His role here is an interesting one and although towards the end his segments do tend to get…repetitive, however intentionally so they do tend to drag. Unfortunately, the story is let down somewhat by a semi-obvious plot development but it's at least interesting. A brilliant series opener and one of the highlights of the set.
Telepresence- Guy Adams
Picking up directly where the previous story left off, the U.N.I.T team are investigating some strange technology that sees's Osgood, Shindi and Carter embarking, 'virtually' into a strange deserted desert-like world. It's a deliciously creepy tale that is incredibly imaginative in its imagery, with strange metal worms bursting out of the ground and attempting to convert our heroes. There's a genuine feeling of danger throughout, of something extremely malevolent and dangerous lurking (quite literally) beneath the surface. Of course, the listener knows who the secret rulers of this planet are, but that doesn't make the build-up any the less effective and I kind of wish we could spend a little more time in this cyber-ruled post-apocalyptic nightmare. Another success for the sixth series of UNIT.
Code Silver- Guy Adams
Again following on directly, Code Silver sees an offshore UNIT base (which we're told should be familiar to fans of The Sea Devils) invaded by a new breed of Cybermen. Guy Adams really works wonders with the Cybermen here, managing to do the impossible and bring something new to the table. He uses the idea of the Cybermen utilising modern technologies to its logical conclusion and we're presented with a rip-roaring action fest that features Kate Stewart and Josh Carter trying to compete with a cyber-force that is constantly updating and bettering itself. A rip-roaring adventure.
Master of Worlds- Matt Fitton
Unfortunately, after three incredibly strong stories, what should be the explosive finale ends up being my least favourite. Now as a story, it's not bad, not bad at all. As a season finale? It's terrible. Why? A simple reason- the inclusion of the Master. Now I should say that in fact Derek Jacobi was actually my favourite thing in this story, if not the entire box set. This is my first experience of his version of the Master on Audio and he is incredible. Fitton also gives him some incredibly juicy moments but that's just the problem. The Master is introduced only in this story and suddenly all the attention is on him. The result is that the other elements that have been built up throughout this series (and to an extent the last) are suddenly pushed aside. Indeed one particular element that felt should have been central to the plot had about two minutes and was dealt with in at least thirty seconds of those. It's a shame really as the Master elements are the best part of this story but they result in a weak finale to the set. Big Finish really should have held off and had the Master as the villain for an entire series.
All in an all another amazing set of stories. Unfortunately, the last episode does let it down somewhat but it's still an amazing set of audio dramas and whilst it may not work as a series finale, it still works as a brilliant showdown between UNIT and The Master.