Saturday, 20 February 2016 - Reviewed by Thomas Buxton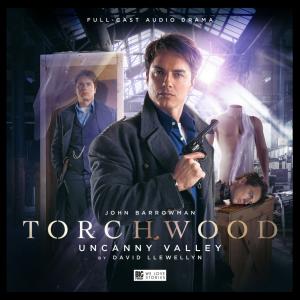 Written by David Llewellyn
Directed by Neil Gardner
Starring: John Barrowman (Captain Jack Harkness), Steven Cree (Neil Redmond), Emma Reeves (Miss Trent)
Released by Big Finish Productions - January 2016
Every now and then, Big Finish launch a work of audio drama which, against all of the odds, somehow manages to catch the audience (this reviewer included) completely off-guard. Just think back to last September's Torchwood: The Conspiracy: in light of the wholly underwhelming nature of its source material's fourth televised season, Miracle Day, few listeners would have likely been surprised if the studio's first venture into the world of Captain Jack, Gwen Cooper and Torchwood Three had only served to further highlight the show's supposed decadence in an age of myriad near-identical detective dramas. But quite to the contrary, Season One's opening chapter had precisely the opposite effect, incorporating inspired contemporary storytelling devices such as social media and video-blogging whilst reminding us how captivating and morally layered a performance John Barrowman could offer up when gifted with the right script by placing the actor front-and-centre in a storyline which took full advantage of his considerable capabilities.
Fast forward four releases, and we reach a similarly masterful new chapter in the form of Torchwood: Uncanny Valley, which wisely brings Barrowman back into the fold in order to depict Jack Harkness' ongoing efforts to decipher the still-ambiguous origins of the sinister Committee by investigating their backing of the reclusive billionaire Nick Redmond (Steven Cree). That's not to say that spending time in the company of the rest of Jack's gang – Gwen, the much-missed Ianto and even Yvonne Hartman included – over the course of Season One hasn't been a treat unto itself, yet whereas titles like Fall to Earth, One Rule and in particular Forgotten Lives have each taken fairly predictable approaches to developing the mortal members of the series' ever-changing ensemble, this penultimate chapter mirrors Conspiracy in its emphasis on quite how much of an unknown quantity Barrowman's beloved construct remains more than ten years on from his debut in 2005's "The Empty Child". We may have seen Jack adopt the roles of Time Agent, conman, leader, mournful sibling and lonely immortal over the years, but given how many facets of himself the man has revealed in these various guises, the concept that there may be plenty still to learn yet still seems highly probable, if not downright inevitable, at this point.
Certainly, writer David Llewellyn (who, unsurprisingly, penned both Conspiracy and Uncanny) does little to diminish this trail of thought here, either, delving further into Jack's increasingly flexible sexuality, his almost despicable mastery of psychological manipulation and the rules he's willing to break in order to complete the mission at hand than any of Big Finish's other Torchwood releases, to the extent that the hauntingly ruthless soul we saw murder his own son in Children of Earth's closing moments fades back into view at times. Thankfully, though, the manner in which Llewellyn elects to portray his protagonist this time around doesn't represent him in a wholly pessimistic light, with his exploration of how striving for immortality, be it literal in Jack's case or cultural in Redmond's, can take a substantial toll on one's sense of their own identity casting the supposed Face of Boe in an entirely different, often more sympathetic shade than that which we've seen before, thereby ensuring that despite the character sporting a fascinatingly complex moral compass which often forces him into questionable territory in the eyes of the audience, many elements of his personality can and will still resonate with listeners everywhere as they contemplate along with Barrowman's ageless vagabond and Redmond's ageing icon whether it's possible to stay true to their core values if they spend their lives only trying to ensure themselves a lasting legacy.
As for the narrative through which Llewellyn effortlessly develops Jack's characterization, to spoil too much beyond Uncanny Valley's previously-discussed premise would undoubtedly ruin our reader's enjoyment of a relentlessly surprising, thought-provoking tale which had this reviewer thrilled, intrigued on an intellectual level and emotionally invested in equal measure throughout its running time. Suffice to say that what with its depiction of multiple incarnations of Barrowman's character, the rather dazzling cover artwork Big Finish have produced for this instalment's CD release at least provides a hint or two as to some of the issues which are explored as Jack discovers how Redmond attends corporate events while remaining safe and sound inside his cosy mansion. For anyone worried that the sight of doppelgangers might indicate they're about to endure an hour-long 'Greatest Hits' tribute to recent cloning-orientated greats like Humans and Ex-Machina, however, rest assured that Llewellyn, director Neil Gardner (who lends a refreshingly intimate air to proceedings, ensuring that Jack and Redmond's increasingly heartfelt conversation isn't rendered as a farcical one by an overly heart-wrenching score or similarly clichéd technical elements) and the remarkably versatile three-player cast seem only too aware of these potential comparisons and as such make every effort to connect with their audience on a deeper level – both emotionally and intellectually – than any of their esteemed rivals.
Speaking of the cast, whereas Tracy-Ann Oberman's backing players went some way towards reducing the overall impact of her return as Yvonne in last December's One Rule with their one-dimensional portrayals of the most stereotypical representations of Welsh society in recent memory, the same can hardly be said of Barrowman's co-stars; instead, Cree and Emma Reeves both seem born to play their respective roles as Redmond and his far-from-selfless benefactor Miss Trent. Admittedly Reeves has, for whatever reason, guest-starred in Forgotten Lives already this season and her 'screen-time' here remains particularly limited, meaning that Uncanny Valley places much of the onus on Cree's dynamic with Barrowman, hence why it's such a welcome surprise to see the pair develop such a deep, near-intoxicating chemistry in the space of but a single series of captivating discussions. By turns egotistical, pathetic and immensely relatable, Cree's Redmond stands as easily Big Finish's most compelling addition to the Torchwood pantheon to date (a remarkable feat in and of itself given how quickly many listeners adored Lisa Zahra's hapless-but-endearing call centre worker Zeynep in Fall to Earth), and whilst Llewellyn's constantly evolving portrayal of the character helps no end, that he's such an instant success is primarily down to Cree's unpredictable, unforgettable performance.
The word "unforgettable" seems as fine an adjective with which to summarize Uncanny Valley as a whole, come to think of it – like Llewellyn's The Conspiracy before it, this morally subversive, intellectually stimulating and yet somehow incredibly understated tale takes full advantage of the strongest elements of the original TV series (Barrowman's performance and its dealings with far more adult topics than his character could ever encounter in the world of Doctor Who). More impressive than that, though, is how its scribe goes one step further with his second script, placing his primary supporting construct on equal (if not superior) footing to Jack and in doing so creating that much more of a thematically rich narrative which brings out the best in both of its leading players whilst allowing the audience to connect with its events to a far greater extent than they might have when viewing them solely from the perspective of an immortal being whose humanity is debatably fading by the day. An all-out blockbuster Uncanny Valley mightn't be, but in truth, we wouldn't have it any other way, for in place of a shallow, action-driven storyline, we've gotten one of the most cunningly crafted and emotionally satisfying productions in Big Finish's history.