Thursday, 10 December 2015 - Reviewed by Damian Christie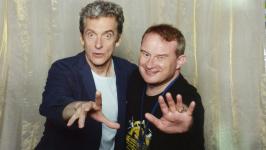 The Doctor Who Festival - Australia
Hordern Pavilion & Royal Hall of Industries, Sydney, NSW
21-22 November 2015
A BBC Worldwide event
Guests: Peter Capaldi, Ingrid Oliver, Sylvester McCoy, Dan Starkey, Steven Moffat, Mark Gatiss, Danny Hargreaves, Daniel Nettheim, Jon Davey
Merely a week after the ExCel Centre in East London had hosted the Doctor Who Festival, the show was on the road again, over 17,000 kilometres away -€" this time at the Hordern Pavilion and Royal Hall of Industries, in Sydney, Australia.
While the numbers who rolled through the Pavilion on the weekend of 21 and 22 November probably did not rival the attendance of UK fans at the ExCel Centre the week before, you certainly could not fault the passion and the exuberance of the Aussie fans. The bulk of the attendees would have been locals from Sydney but there were many fans (this Melbourne-based writer included) who made the trek from all parts of the continent, from as far away as Cairns (a good 2500km north) to as far west as Perth (a mere 4000km away) and as deep south as Tasmania to see the Doctor Who circus roll into old Sydney town.
It really was as much an Australian event as it was a Sydney-based one, illustrating just how universally loved Doctor Who is in this former colonial outpost. Australians and the ABC, the Australian public broadcaster, have traditionally been great supporters of Doctor Who over its 52 years, and the series has never been more popular amongst younger and older Australian fans alike. Indeed, whether it was deliberately planned or otherwise, the timing of the Australian Doctor Who Festival could not have been better -€" 2015 is, after all, the 50th anniversary of Doctor Who first airing in Australia.
Indeed, BBC Worldwide should be commended for going all out in its organisation of this event and not taking Doctor Who'€™s Australian fan base for granted. Not only did we get an impressive line-up of guests, spearheaded by the current Doctor Peter Capaldi (Capaldi is the first incumbent in three decades to visit Australia in an authorised capacity; before that, you'€™d have to go way back to the early 1980s when Peter Davison did a promotional tour), but BBC Worldwide spoiled us even more by putting on display costumes and props from the just completed latest season of the program, including a Mire trooper'€™s armour (The Girl Who Died), the towering Fisher King (Before the Flood), the Sandman King (Sleep No More) and a Zygon (The Zygon Invasion/Inversion). There was even a miniature of the Dalek city on Skaro (as seen in series opener The Magician'€™s Apprentice/The Witch'€™s Familiar). This well and truly exceeded my expectations; while I expected to see props and costumes on display, I was expecting them to be from years well past.
In addition to Capaldi, the guests for the weekend also included executive producer Steven Moffat, series writer Mark Gatiss, Ingrid Oliver (Osgood), who stepped in at the last minute when Billie Piper pulled out due to filming commitments, and Seventh Doctor Sylvester McCoy. Dan Starkey (Strax) and monster artiste Jon Davey (who has played Daleks and Cybermen in the modern TV series) also participated in live shows in which they demonstrated to fans what it was like to walk like a Sontaran or to operate a Dalek. Another highlight of the weekend was the visual effects show hosted by Danny Hargreaves and his Real SFX team in which he wowed the audience by triggering charges on a Dalek and a Cyberman on stage and discussed the challenges of working in pyrotechnics (including setting up the charges that unveiled the impressive "€œNO MORE"€ banner blasted by the War Doctor in The Day of the Doctor). Fans also had the opportunity to line up for photos at the Real SFX team'€™s booth with a Dalek, a Christmas tree and polystyrene snow!
In addition, there were various other panels occurring contemporaneously within the Festival hall, eg The Science of Doctor Who (which has previously toured Australia), the writers'€™ masterclass (with Mark Gatiss), the Production Village (with questions answered by series director Daniel Nettheim) and the Doctor Who Pub Quiz.
Meet and greet
The Q&A sessions with Hargreaves, McCoy and Capaldi, Oliver and Moffat in the main theatre were hosted and moderated by local ABC radio identity Adam Spencer. Sylvester McCoy, as always, proved to be the consummate entertainer, preferring to get up close and personal with the fans rather than staying still on the couch on-stage. Sylvester is no stranger to the Doctor Who convention circuit in Australasia; he's been here numerous times since the mid-2000s, including filming in New Zealand for The Hobbit film trilogy, and while he often regales us with some very familiar stories (eg the female artiste in 1989'€™s Survival who stripped herself naked from her Cheetah Person costume after overheating and was last seen running up some sand dunes in a thong!), he nevertheless knows how to keep an audience entertained. He also remains ever so spritely, despite being in his seventies and hobbling around with a cane (thanks to, as he put it, so many "€œcomedy injuries"€ sustained during his time as a stuntman and performer on the Ken Campbell Roadshow).
McCoy had fans rolling around in the aisles with his Sean Connery impersonation when discussing why David Tennant chose not to use his Scottish accent during his tenure as the Tenth Doctor. He also amused everyone with his recollection of the regeneration scene in the 1996 TV movie; he described himself and Paul McGann as having "€œrubber faces"€ and proceeded to pull all manner of strange expressions when explaining that he and McGann had to screw up their features for the CGI team to complete the regeneration effect. He also clearly enjoyed ribbing his predecessors and successors, eg describing Colin Baker as having a "€œgreat costume"€ and McGann as a "€œrather ugly Liverpudlian"€.
While Sylvester was as comedic as ever, the real stars (at least as far as the fans were concerned) were Peter Capaldi and Ingrid Oliver who spent the bulk of the weekend patiently and industriously meeting, greeting and posing with fans for a succession of photos. It is all too easy to just herd fans through, snap their photos and usher them on (as often happens at fan-run conventions). It is to BBC Worldwide'€™s credit that as much effort as possible was made to personalise the experience for fans by having the minders introduce each and every person by name to Capaldi or Oliver who would then acknowledge them. The actors were also quite happy to do fun poses with the fans, including Capaldi'€™s (now) signature finger pointing as the Doctor.
Capaldi himself acknowledged just how much hard work it was during one of four live panels that he attended over the weekend, along with Oliver and showrunner Moffat. "€œI can'€™t speak,"€ he started a little breathlessly at one point, "€œbecause I'€™ve just been doing 180 photographs and saying '€˜Hello, how are you? I love you too, goodbye!'"€ However, he qualified that initiatives such as the Doctor Who Festival and also last year'€™s World Tour are great things to do because "€œit'€™s very easy to forget, when you'€™re in a bubble making the program, what the constituency of the audience is, and when you see that and when you get to meet youngsters, five-year olds, six-year olds, ten-year olds, teenagers, hipsters, baby boomers, middle-aged people, old people, it'€™s great for us to be reminded of the audience because you are the people we are making the show for!"€ (He naturally received a round of applause for these remarks.)
Capaldi further got brownie points with the Aussie audience for saying that he didn'€™t truly realise the extent of what it was like to be the Doctor until he saw Australian fans "€œen masse"€ at the Sydney Opera House during the World Tour. At that time, he had just finished making his first series but it had not gone out and so he did not know what the reaction would be to his performance. Similarly, he recalled feeling a little left out during the 50th anniversary celebrations in November 2013; he had been announced as the new Doctor at that point but was not invited to participate in the celebrations with his predecessors. This led Moffat to jokingly tease Capaldi for just being the classic grumpy Glaswegian!
t didn'€™t take long though for Moffat to do a little grizzling himself when Spencer asked him how the touring party had coped with the heat wave the day before, as Sydney'€™s mercury exceeded 40 degrees Celsius (or 108 degrees Fahrenheit, which Sylvester McCoy said sounded more impressive!). Moffat remarked that the heat, coupled with the northerly winds, made him feel like he was being assaulted by a giant hair dryer! He was also astounded to see Australian business people wearing suits in the heat. "€œWhy aren'€™t you dying?"€ he quipped.
Ingrid Oliver was not as unfamiliar with Australian conditions, having previously toured in a sketch show based on her BBC2 comedy series Watson & Oliver (with fellow comedienne Lorna Watson). Oliver stated that she knew she was truly in a Doctor Who episode (2013'€™s The Day of the Doctor) when she was required to put on her "€œbest Doctor Who acting"€ -" at the moment Osgood realises that the Zygons are hiding under shrouds in the Under Gallery. (Capaldi helpfully described this as "€œpenny drops"€ acting, which subsequently led both actors to playfully put on their best "€œpenny drops"€ expressions for the benefit of the fans.) The Day of the Doctor also proved to be something of a homecoming for Oliver, as location filming was done around the Tower of London - where her first job after drama school was to dress up in period costume to entertain American tourists!
Like Capaldi, Oliver also didn'€™t realise just how much the part of Osgood had cut through with fans until she started to meet lookalikes that were dressing as Osgood (including moderator Spencer'€™s daughter who greeted her backstage by inhaling an asthma pump!). She also talked about just how gut-wrenching it was when she realised Osgood was to be killed off in Death in Heaven but was elated when she was invited back to reprise the role this year.
Guitars and homaging the Beatles
Capaldi similarly expressed elation when he discussed the 12th Doctor'€™s guitar. He recalled that he had made the suggestion to Moffat about the Doctor playing an electric guitar in passing between seasons, promptly forgot about it and was then delighted to find it had been taken up by the script writers. He then accompanied the production team to a vintage guitar shop in Soho where he chose a guitar that reminded him -€" "€œthis is really for guitar geeks"€ -" of a home-made version of a Fender Stratocaster. Capaldi subsequently complimented a fan in the audience who came dressed as his character, complete with Fender Stratocaster!
Spencer also asked Capaldi about the publicity photo taken in September to promote the return of Doctor Who in which he, Jenna Coleman and two Daleks paid homage to the album cover for the Beatles'€™ album Abbey Road. Capaldi stated that the photo was taken in "€œ30 seconds, a minute tops"€ (because Abbey Road is open to traffic) but they practised in a nearby car park with the Daleks before doing the shot.
Capaldi also recalled how excited he was to originally play Caecilius in the 2008 Doctor Who episode The Fires of Pompeii alongside his predecessor David Tennant. As he was a huge fan of the TV series and never expected to have any further involvement with Doctor Who, he was very easily tempted to accept the offer without even reading the script before his wife urged him to be "€œprofessional"€ about it. He invoked plenty of laughter in the audience when he joked that there was a little part of him that wanted to be the monster that could kill Tennant!
When it came to eventually being offered the part of the Doctor, Capaldi stated, "€œThere was a part of me that said I had to be realistic and consider how my life would change ... I knew that my visibility would change and I would be famous in a way that I hadn'€™t been before. I don'€™t think being famous is a natural condition, it'€™s quite anxiety-making and odd. So I had to seriously think about that, even though I was prepared to take the risk ..."€ Interestingly, he later said that while he enjoys playing the role, he still doesn'€™t really think of himself as a "€œDoctor Who"€, "€œmay be when it'€™s all over"€.
That said, he added that while he finds the part physically exhausting, thanks to doing minor stunts and running up and down corridors, he nevertheless finds the part keeps him "€œhealthy, spritely and spry"€.
Childhood heroes
Capaldi was also asked about the actors that inspired him growing up. He cited John Hurt, Peter Cushing and Christopher Lee, as well as the first four "€œDoctor Whos"€, as actors that had impressed him. He recalled how he met Peter Cushing as a child and got his autograph and because the two of them shared the same initials, he styled his signature after Cushing'€™s autograph, which he described as a "€œvery elegant and considered signature"€.
Moffat also recalled how John Hurt came to be cast in The Day of the Doctor. "€œWe had this situation where we managed to accumulate two Doctors for this special and I had the idea that maybe there was one more Doctor than we knew about, the Doctor who fought during the abominable hiatus of all those years, 16 years without Doctor Who ... When I wrote the ending to the script for The Name of the Doctor, I had it written that a famous actor turns around. It had to be a famous actor, someone you would have cast back then as the Doctor. I remember saying somebody like John Hurt, whom we regarded as completely inaccessible.
"€œWe were weeks out from shooting, we were so close, I could barely stop crying and so we sent the script to John Hurt. And in an incredibly short space of time, he read it and said '€˜Yes'€™, which was astonishing to us! And the question that came through via John Hurt'€™s agent: '€˜John wants to know, he actually is a '€˜Doctor Who'€™ now, he wants to know ..'€™ I told him, '€˜It'€™s not a trick, he is a proper '˜Doctor Who''€™. He got the benefit, you see, he worked three weeks in Cardiff and he'€™s an official '€˜Doctor Who'€™."€ Moffat added Hurt'€™s casting was such a huge relief, considering at one point neither Matt Smith nor David Tennant were contracted and he was faced with the possibility of writing a 50th anniversary special with just Jenna Coleman!
A legend without end
To close, Moffat was asked his opinion of Doctor Who'€™s expanded universe (eg the comic strips, the novels, the Big Finish audios). He said what he loved about the expanded universe was that the "€œpast is still growing, there are still more episodes of David Tennant or William Hartnell that we never saw. It means that the future for Doctor Who extends in both directions, all of them are still alive, all of them are vibrant. You have Big Finish, the comics and the books making new stories. It feels unstoppable. It'€™s not just growing into the future, the stuff that'€™s supposedly over is still growing and I think that is the mark of a legend that can never end"€.
There's no doubt events like the Doctor Who Festival further enrich the legend for fans. The Australian Festival was a well organised, memorable and fantastic event. If the exercise is repeated in future -€" whether that is in the UK, Australia or indeed in Doctor Who'€™s other traditional markets such as North America -€" I encourage all fans to attend. While the price of entry may seem hefty (almost $AUD200), the experience is more than rewarding.