Tuesday, 24 November 2015 - Reviewed by Tim Hunter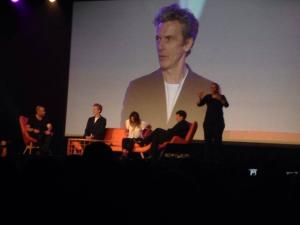 Doctor Who Festival
RHI, Sydney, Australia
21-22 November 2015
Sydney has always been known as a warm and sunny city, but on the day before the
Doctor Who Festival
took over the Horden Pavilion and Royal Hall of Industries (RHI) for the weekend, it surpassed itself. Flying in from Melbourne on Friday, where it had been a cool 15 degrees Celsius, it was 41 degrees on arrival in Sydney. That's 108 degrees Fahrenheit – which, as
Sylvester McCoy
said, sounds much more dramatic.
Happily though for both attendees and the team from the UK, a cool change swept through Friday evening, so the next morning, everyone was queuing under a cloudy sky and in a much more respectable 20 degrees. Which is just as well, because dealing with the queues outside the Horden Pavilion, a venue known for hosting concerts and the Sydney Gay & Lesbian Mardi Gras party, for 45 minutes would have been unbearable in the previous day's heat.
Yes, in true British tradition, the day started with polite queuing. Four lines, apparently: the Dalek TARDIS ticketholders, the Dalek General Admission, the Cybermen TARDIS ticketholders and the Cybermen General Admission. Not much in the way of visible signs and directions however, so harried security personnel were constantly asked which line was which, and many people realised they were in the wrong line. Still, it gave everyone the chance to check out a healthy number of cosplayers, dressed in various versions of the Tenth, Eleventh and Twelfth Doctor costumes, a handful of Weeping Angels, homemade Cybermen, priestesses from 'The Fires of Pompeii', River Song, an occasional Captain Jack, and quite a few Osgoods.
As a rule, there wasn't much complaining though, and I made it in – with the Cybermen stream and a Press Pass – into the main theatre for the first event, the Real SFX Show with Danny Hargreaves. He joined host Adam Spencer on stage, blowing up a Dalek casing and talking about his effects work on the show over the past ten years. He spoke about how different actors dealt with his explosions (Matt Smith squealed and jumped, Peter Capaldi apparently met one over-exuberant explosion with a steely gaze directed at Danny), and then demonstrated, with the help of a couple of volunteers, set off a charge in a rogue Cyberman's chest. It was a fun and colourful start to the day, and the audience were enthusiastic and appreciative. It made a normally unreachable element of Doctor Who that much more real.
That would continue, as we then streamed into the RHI, where the rest of the Festival was set up: stalls, merchandise, props, costumes, a Pub Quiz and three separate areas for further discussions with those who work behind the scenes. First up was Mark Gatiss on the Dropbox Stage, chatting informally with local comedian and host Rob Lloyd about writing for Doctor Who. He was intelligent, articulate and considered with his answers, with a large focus on his most recent episode, Sleep No More, inspired apparently by his 3am insomniac state and rubbing the sleep out of his eye. It was also his first 'future' story, a satire on capitalism, and he spoke about enjoying creating a whole new world in the way Robert Holmes had.
He also spoke about lesser known things, such as the Doctor Who reboot pitch he, Gareth Roberts and Clayton Hickman took to the BBC in 2001 or 2002, which involved an English village and a strange man in the antiques store, who would be revealed as the Doctor. And the idea he tossed around of adapting his New Adventures novel, Nightshade, for the 2013 TV season, but with Ian Chesterton as an old man imagining the Zarbi and the Voord.
Gatiss also spoke of the strong female characters and presence in the series now, how he's really a frustrated casting director, the fact that there's no way an Ice Warrior in full armour could actually fit in a Soviet submarine, and how much he enjoyed working in references to old stories, like DVD Easter eggs.
Joining Lloyd on the stage next was Millennium FX's Charlie Bluett, who took us through the creation of the Sandmen from Sleep No More, which included one of said Sandmen lumbering into the audience and onto the stage to be unmasked – literally. Fun facts taken from this session: KY Jelly is used to make monsters glisten, and the old Classic monsters are the hardest ones to create.
The Science of Doctor Who was the next session on this stage, and Lloyd, with Dr Martin White, presented a lively and cheeky exploration of scientific concepts, such as relative dimensions and regeneration, with the help of a Whiteboard, complete with its own minions, at one point. Fun fact: there are more than four dimensions in the universe – it's more like 12!
Time then for more queuing – for food and coffee, to buy merchandise, to see the costumes and props, which included a great model of the Dalek City from this year's season opener, The Magician's Apprentice/The Witch's Familiar, a Zygon, the Fisher King and a Mire, and to try and get a photo with a Dalek and Christmas tree in a fake snowstorm. This last one proved very popular, and even though I queued up more than once for this, I didn't get the photo opportunity because I had other events to get to.
Such as the Sylvester McCoy session back in the Theatre. Hosted again by Spencer, McCoy was in great form, starting off on the stage with Spencer, talking about ferrets down his trousers, hammering nails into his nose (and how that is done without dying), playing the spoons on Kate O'Mara's chest, which was very bouncy, apparently, but soon, with microphone in hand, he was down in the audience, answering questions and wandering around talking about all manner of things and jumping from story to story. His musings were illustrated with images quickly sourced online by the mixing desk crew and flashed on the screen as McCoy's stories unfolded, which added an extra layer of context and visual reference.
Fun facts taken from this session: McCoy's favourite story to work on was Survival (he attributes this to the actress who couldn't deal with her cat costumes and stripped it off and ran into the desert wearing just a thong…); his favourite new monsters are the Weeping Angels; he got lost in Colin Baker's costume and the Harpo Marx wig when filming his regeneration scene; and both he and Paul McGann have rubbery faces which worked well in their regeneration scene. All this made for an entertaining 45 minutes, and he was clearly a hit with the children and many others who may not have seen any of his work as the Seventh Doctor.
Then it was time for the session everyone was waiting for – Peter Capaldi, Steven Moffat and Ingrid Oliver – a last-minute addition after Billie Piper cancelled during the week. She may have been last-minute, but she was a welcome addition, and the three of them on stage together, moderated again by Spencer, had an engaging banter and rapport. Oliver spoke about her audition and getting her 'penny-dropping moment' look just right – which she and Capaldi then demonstrated, to rapturous applause and laughter. She also told of her first acting job, playing Shakespearean roles for American tourists at the Tower of London, and how her first scene for Doctor Who was there, so had a nice synergy for her.
Capaldi, at the end of an exhausting day, still had energy to talk about sitting at home alone watching the 50th anniversary special, having not been invited to anything, and how excited he'd been to work on The Fires of Pompeii, but said he'd loved to have played a monster covered in latex and killing David Tennant. He also spoke about having lunch with Matt Smith before starting the role, and Smith was on crutches. He and Moffat also enjoyed some dry and dour Scottish repartee, which the audience loved, and Moffat explained that writing the 50th anniversary special was the hardest thing he's done – especially since he started out with no Doctors under contract at all, just Jenna Coleman. He also mentioned that while he may have suggested someone like John Hurt for the War Doctor, he never thought they would actually get him.
Spencer had asked the audience beforehand to think of questions beyond the obvious stuff that you could find the answer to by googling, and they did. Apart from a question about a Doctor Who/Sherlock crossover, which Moffat quickly shut down, there were some thoughtful and left-of-centre questions. Capaldi was caught out by one fan asking about his 80's pop band, The Dream Boys, and a potential film about them. That started a whole conversation about the name sounding like The Chippendales, or a calendar – which then inspired a comment about the Women of UNIT sounding like a calendar and how Capaldi would like to see that calendar. As anyone would.
The final question was about the panel's thoughts on the expanded Who Universe, such as novels, comics and audio plays, and Moffat took the talking stick and spoke about how he loved the fact that the past is still growing, and that it feels unstoppable. And that, he said, is the mark of a legend that can never end.
Enough time then, to head back into the RHI and a couple of final sessions in the Arena area. Hosted by comedian David Innes (who, with Rob Lloyd, form the comedy duo Innes Lloyd) was the Fan Challenge, or as Innes called it, the Game of Rassilon, where participants play in a series of physical trivia challenges to win the award. A mixture of easy, difficult and almost impossible questions from all eras of the show, it demonstrated exactly how much fans know, regardless of their age.
After that, it was time to meet the monsters. Strax performer Dan Starkey and Dalek operator and monster actor Jon Davey explained and demonstrated how to walk and speak like a Sontaran, how to make the foam rubber Mire costume stomp like a heavy metal robot, and how to get in and out of a Dalek casing. Both performers were relaxed and entertaining – especially Davey mincing around in a headless Mire costume, and seeing inside a Dalek, and it was a fun and lightweight way to finish a very intense and overloading day.
Yes, it was a long day, but for the attendees, who had travelled from all across Australia, from Perth and Brisbane and other cities, it was a unique look into the workings behind a much-loved show. Hopefully this isn't a once-in-a-lifetime event, because despite the queuing, it was a great success, and the guests were very impressed with Australian fans' love, devotion and dedication to Doctor Who. So, can we have more, please?