Friday, 24 July 2020 - Reviewed by Kenny Scheck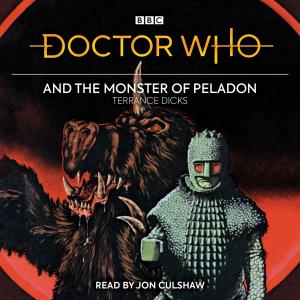 Written by Terrance Dicks
Read By Jon Culshaw
Released by BBC Audio - March 2020
Available from
Amazon UK
Despite my love for the Third Doctor era of the show, I was never a big fan of the Peladon adventures. I found the stories underwhelming and Alpha Centauri to be an annoying shrieking character in a lame alien costume. Those were my main takeaways, and since I haven't ever revisited since my initial viewing, it is really all I have to go on. Something of a vague memory. Someday, when the blu-ray collections get to the seasons that feature these adventures, I will give them another whirl and we will see how they hold up then. Until then, I have the audiobook of the Terrence Dick-penned Target Novelization to refresh my memory.
It is okay I guess. It isn't as lame a story as I recall, but Alpha Centauri's shrieking is definitely toned down by Jon Culshaw's reading. Culshaw really sells the whole thing. He is a solid narrator, but it is his Pertwee that is just perfect.
I do think this story has too much pad, even in this fairly short novelization I found parts of it were dragging. But Culshaw's reading elevates what I found to be mostly forgettable material.