Sunday, 19 May 2019 - Reviewed by Ken Scheck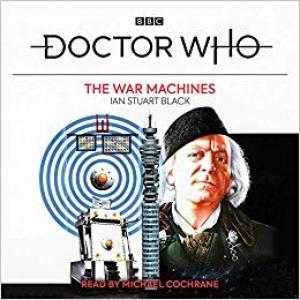 Written by Ian Stuart Black
Read By Michael Cochrane
Released by BBC Audio - March 2019
Available from
Amazon UK
I have always ranked The War Machines fairly high in First Doctor stories. I've always felt Hartnell is quite good in it, and it drops dead weight companion Dodo in favor of the charming Ben and Polly, who at the time better represented modern youth. It also had fun robot villains trying to overtake London and the World, and what isn't fun about that? But somehow, I didn't really find myself that interested in this audiobook of the Target Novelization.
Written by original script writer Ian Stuart Black, the novelization just isn't written with any energy. It highlights the deficiencies of the television story. On TV they got away with some filler and a story that isn't full of action, because the performances of Hartnell, Anneke Wills, and Michael Craze keep you engaged. But as a novel or audiobook, I just found that there isn't much happening, and even though I finished listening to it a week ago, I've been struggling to think of much to really say about it.
The only thing of note I truly remember is that the first chapter adds a bit of business between the Doctor and Dodo, in which both note secretly think they will be parting soon. This is certainly more than the TV version ever did, as Dodo just disappears at one point, and at the end of the story, her replacements show up and say she's gone to live on a farm upstate somewhere, and then they callously steal her job. The book does the same, but at least there is this acknoweldgement of her exit in the beginning of the story.
I don't think it is the fault of the narrator, Michael Cochrane, who I think does a fine job. His Hartnell impression is particularly great. But the guy has little to work with. I find it so odd that a story I have always liked has left me so cold in the novelization.