Friday, 12 April 2019 - Reviewed by Matt Tiley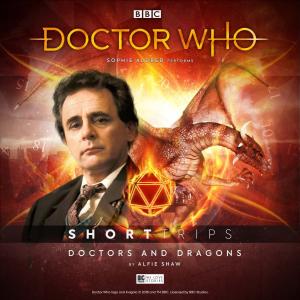 Narrator - Sophie Aldred
Writer, Producer & Script Editor - Alfie Shaw
Director - Lisa Bowerman
Reya always knew she was different. Only she could see the numbers that govern the universe. When her sister is poisoned, Reya quests for the substance that can save her. The blood of the last dragon. The one thing that stands in her way is a strange little man called the Doctor. He's refusing to let her kill the dragon, even though it will save her sister.
Defeat the Doctor, kill the dragon, save her sister. What could be simpler?
Doctors and Dragons is essentially Doctor Who has a go at Game Of Thrones. But. Heres the thing - I have never watched a single episode of Game Of Thrones. Why you scream? I just am not a fan of fantasy. There, I've said it. Run now.
This story is very heavy on fantasy and magic, which are two things that I personally don't think should be mixed with the Whoniverse. In my mind there should be a Christopher H Bidmead semi-scientific explanation for everything. Not potions and spells!
But - I quite enjoyed Doctors and Dragons. I thought the pace was good. Alfie Shaw's writing came out tops, and Sophie Aldred's narration was great (especially when Ace finally appeared - but the less said about that the better).
The story romped along in a fine manner, and the sacrifice for the mystical paid off in the end.
Have I mentioned yet that I love the new Short Trip cover art? So much better than the Doctor of the story staring rather boringly off into the distance. Well done Mark Plastow for these great new creations.
Doctors and Dragons is available from Big Finish HERE.