Monday, 5 November 2018 - Reviewed by Matt Hills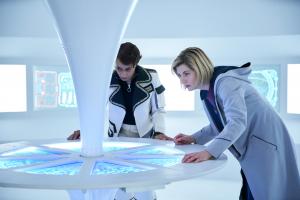 Writer: Chris Chibnall
Director: Jennifer Perrott
Series Producer: Nikki Wilson
Executive Producers: Chris Chibnall and Matt Strevens
Starring Jodie Whittaker. Bradley Walsh, Mandip Gill, Tosin Cole, Suzanne Packer and Jack Shalloo
A BBC Studios Production for BBC One
First broadcast Sunday 4 November on BBC One
Running time: 50 minutes
Warning: this review contains spoilers from the outset
Treated as a traditional 'base under siege' story this may seem a little disappointing, but taken as a deliberate attempt to do something different with the well-established template, it comes into focus as an intriguing and largely successful entry into the emerging Chibnall oeuvre. Perhaps the biggest divergence lies in the form of the singular Pting threat, created by Tim Price in a 'writers' room' session. Where usually one might expect uncanny robots, or even oversized insect-like creatures in the style of the Wirrn (not something that would work particularly well so soon after last week's giant spiderfest), here we instead get a toothy yet cutesy miniature troll or gremlin who drifts away at the end, blissed out after a hearty meal. It's a tonal shift that questions our expectations about the appearance of monstrosity -- something that 'The Woman Who Fell to Earth' failed to do, with its generic depiction of the Stenza as a terrifying, blue-skinned warrior race. However, constituting a "chalice"-level threat -- this story borrows its take on futuristic language as absurdist from the Russell T Davies playbook -- there can be no doubting the danger posed by the Pting.
And if this threat is unconventional, so too is the Doctor's ultimate solution, something which the dialogue rams home for long-term and new viewers alike: "funny, I'm normally the one defusing the bomb". Add to this an extremely unusual opening, where the thirteenth Doctor proves to be fallible against a sonic mine, and this proves to be a story repeatedly taking the less trammelled path rather than pursuing well-worn story beats, even down to the sonic screwdriver being (temporarily) incapacitated. Pleasingly, a cliched 'awww, you named him after us' moment once Yoss has given birth is also thoroughly undermined, and the otherness of 67th century male pregnancy is re-asserted, up to a point, in the face of pure 'relatability'. At the same time, the episode features plenty of predictable corridor action and presumably redressed/re-lit sets, allowing the Tsuranga to take on a greater scale than the budget might otherwise have allowed for. Traditional production techniques underpin the less trad storytelling.
Doctor Who has always drawn inspiration from the real world around it, and this tale is no different on that score. One strand of Chibnall's world-building concerns the Tsuranga's automated systems and how its passengers will be treated if they declare the Pting presence. This very much felt like a comment on today's 'smart' computer systems, along with algorithms that reult in experiences of 'computer says no', and operating systems that pester their users for updates and upgrades. The Tsuranga's automatic set of decisions -- "who designed that?" -- creates an ever more restricted set of possibilities for the Doctor, making this not just a 'base under siege' variant but also a kind of 'base (remotely) attacking itself' story, as well as supplyng the raw material for Chibnall's eventual twist and the Doctor's puzzle-solving (something that felt slightly under-motivated by Durkas's brief mention of energy).
The very final sequence reminded me slightly of 'Gridlock', whilst the playfulness surrounding a male pregnancy aboard the Tsuranga offered more of the (retro) 'public service Who' that previous weeks have delivered via inclusions of dyspraxia, cancer, and, of course, a critique of racism. This week's family entertainment talking point revolved around issues of reproduction, and one can imagine conversations productively being sparked about how men could have babies, and for that matter, what not taking "precautions" might mean. This re-gendering of pregnancy continues Chris Chibnall's interest in not just riffing on the RTD era's investment in emotional realism, but also in returning to a re-tooled sense of how Doctor Who can remain distinctive -- as vibrant SF spectacle with an educative mission statement for its much younger viewers. Likewise, the Doctor's homily about imagination, and her delight in response to the anti-matter drive as a scientific achievement, add to the educational balance sheet via a smart sense of Doctor-ish passion. Jodie Whittaker gets most of the best lines, and doesn't waste a single one, as her depiction of the ages-old Time Lord continues to impress.
But if some of this makes 'The Tsuranga Conundrum' sound overly worthy, it's just as well as to recall that the episode works effectively in a series of other ways. The 'conundrum' of the title ostensibly refers to the problem of how to defeat the Pting, given that it can't be killed or even touched, and will eventually eat its way through the entire spacecraft that the Doctor, her friends, and assorted patients are all trapped on (the script makes a suitably big show of denying the Doctor her TARDIS, along with any teleport or life pods). There is another conundrum on show, however -- how can the story combine 'base under siege' tension with character asides and moments of personal development that might seem better suited to the 'slow(er)' TV drama of something like Broadchurch? This is a tricky balancing act, and I sometimes wanted more of a sense of the alien creature's approach or deadly progress to keep tension levels up via an extra Pting cutaway. On the whole, though, character beats and the main plot are interwoven via different protagonists' skills (such as neuro-piloting) that need to be used, along with the occasional bit of misdirection (I was convinced that Ronan, Eve Cicero's android consort, would come into play as a non-organic character who could handle the Pting and thus sacrifice himself).
Sometimes Doctor Who offers a warm glow of familiarity for long-term fans, and sometimes it chooses to unfold in less predictable ways. I didn't feel that 'The Tsuranga Conundrum' was 'bad' Who for an instant, but it was very deliberately and knowingly different Doctor Who -- hardly surprising for a new showrunner's opening season, I would argue. Will Whittaker's Doctor continue to display fallibility rather than ever-present, superheroic and legendary brilliance? (Her initial modesty over the Book of Celebrants giving way to an irrepressible boastfulness was another lovely Doctor-ish moment among an episode jam-packed with them, Hamilton fandom included).
This year looks set to carry on inspiring audience debate via thoughtful portrayals of cultural identity and history; we have the Indian Partition and 'The Witchfinders' to come, along with what will no doubt be a broadly satirical commentary on "the galaxy's biggest retailer" (warehouses the size of a planet?). But whether it is tackling a surprisingly cute alien or a sometimes inhospitable hospital ship, Doctor Who is surely in the rudest of health right now.