Tuesday, 28 November 2017 - Reviewed by Matt Dennis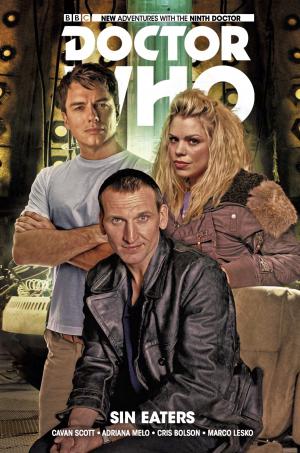 DOCTOR WHO: THE NINTH DOCTOR VOLUME 4: SIN EATERS
Writer: Cavan Scott
Artist: Adriana Melo and Cris Bolson
Publisher: Titan Comics
112pp
On sale November 28, 2017
Titan Comics' run of Ninth Doctor adventures concludes with Volume 4: Sin-Eaters, a collection of stories featuring the Ninth Doctor, Rose and Captain Jack Harkness, except this time around, Jack has left the TARDIS in disgrace!
The first arc of the two contained in this collection sees the Doctor imprisoned in an outer space correctional institute, accused of murdering his newest companion, Tara. Rose goes undercover to find him and discovers terrible experiments are being used to purge the institute's resident criminals of their darker personalities – experiments that create monstrous beings from the subject's dark personalities. Suffice to say, the Doctor is no exception to this fate!
We've seen the Doctor's dark-side manifest as the villain in multiple stories on television and beyond before now but both writer and artist find an interesting new angle on this idea, especially in the artwork from Adriana Melo, which has echoes of The League of Extraordinary Gentleman's grotesquely deformed Mr. Hyde to it. Great as the idea is though, the mere two issues it plays out in never quite seem enough, especially when writer Cavan Scott adds in an additional plot thread regarding the institute's power source. A rushed conclusion with little time to dwell on the emotional fallout the story kicks up doesn't help much either.
The Sin-Eater arc ultimately wraps up too quick to truly satisfy, with many potential story avenues going unexplored in favour of mass carnage and a burning need to quickly move on to the continuing plotline surrounding the absent Jack Harkness. Picking up on the dangling plot thread that is Jack's missing two-year memory, Scott lets his imagination run riot with a fine flashback tale that gives us a glimpse of the Captain's Time Agent exploits, before dovetailing into a Blade Runner-esque sci-fi noir adventure that sees Jack attempting to find the key to his missing memories and hunt down an elusive figure from his murky past.
As a finale, it satisfies, though a needlessly shoehorned-in classic villain, a rather convoluted conclusion, and a very rushed goodbye does make it a hard story to truly love. There are some great Time War references peppered throughout though that certainly adds another interesting layer to the legendary conflict that would make a great story arc in and of itself.
Overall Sin-Eaters is a decent if somewhat rushed conclusion to the Ninth Doctor's current comic book adventures. Scott delivers plenty of references and fun Easter Eggs for fans to spot, whilst the artwork, whilst occasionally rough, does lend itself well to both arc's respective tone.
If you've waited with baited breath to discover more about Jack's mysterious past, you may be disappointed or even a tad confused, but as an epic Ninth Doctor finale, Sin-Eaters certainly has no sins to confess!