Saturday, 13 May 2017 - Reviewed by Matt Tiley
Space, the final frontier - these are the opening words of Oxygen, spoken by the Doctor, over a stark visual of two individuals floating lifelessly in space. The monologue might be an homage to that other long-lived sci-fi show, it sums up this episode perfectly. In space, we need oxygen to survive. Welcome to a universe where oxygen is a commodity. It makes perfect sense. In space, oxygen is just about the single most precious thing there is. Welcome to Oxygen.
BEWARE - THERE WILL BE SOME SPOILERS.
The pre-credits sequence has to be one of the creepiest yet. We find two people working their way around the exterior of a spaceship, their oxygen running dangerously low. One sees a shadow of something that is behind them flickering across a bulkhead. She turns and sees zombies, lurching zombies in helmet-less space suits, looming towards her through the dark vacuum arms outstretched. Her companion turns to see what is happening and sees that she is also now a zombie and is clawing mercilessly towards him . And then Murray Gold's theme kicks in.
Back on Earth the Doctor is meant to be giving a lecture on crop rotation, but is actually, quite aptly, giving a lecture on the effects of space on the human body. This is quite a handy and very timely lecture that will become a practical experience later in the story.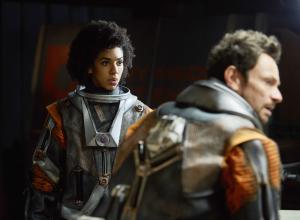 The Doctor though has very itchy feet (no surprise there) and wants to escape the university and his duties to The Vault. It doesn't take long before the Doctor, Bill and Nardole find themselves in the TARDIS, answering a distress call. The trio materialise on a spaceship (which of course is the ship that featured in the pre-credits sequence) and find that it is a mining ship, that at first seems deserted (don't they always). After further exploration they find a dead crew member in a space suit, anchored to the floor by his magnetic boots, which are forcing the corpse to stand upright, leaning slightly to one side (this is such a simple, and creepy effect). It's quite a grisly sight that upsets Bill massively, in fact, she looks truly terrified by the scene - which makes her very human and incredibly relatable. Here is where the horror starts.
In true, classic Doctor Who style there follows, of course, a lot of running down dark corridors, doors that won't open, screaming, panic and facing up against all the odds. Oxygen is a base under siege story where the threat is already in the base. The tension really is palpable, if this story doesn't send the kids scuttling behind the sofa, asking their parents if it is safe to come back out yet, I don't know what will.
Pearl Mackie as Bill continues to excel. I absolutely adored her when she was testing the gravity on the ship, bouncing up and down on the balls of her feet. When the Doctor tells her that the gravity is artificial, she disappointedly points out that it doesn't feel like space. She then looks out a window in pure wonder and takes in the rest of the ship and the stars, "NOW it seems like space!" she says in pure wonderment. On the flip side of her initial of course is her terror at the threat, which is truly palpable. And yes, when her space suit starts to malfunction, she is so very good that it will leave you breathless.
Peter Capaldi puts in another performance that cements home to us all that he will be missed when his time eventually comes. At points during this story, it feels as if the Doctor is out of his depth, which is something that immediately puts the viewer on edge. Plus there are actual ramifications to his actions and heroics that seem as if they will carry on into the next episode, and possibly the rest of the series. Now THAT gives you a story with depth. Wait for his reaction to an unfortunate incident with the sonic, its classic.
The guest actors are all very good, with Mimi Ndiweni being the stand out as the straight talking Abby.
The show is brilliantly directed by Charles Palmer, who makes the tension and events very real. Palmer has worked on Who before with credits that include The Shakespeare Code, Family of Blood and Human Nature. Oxygen contained some of the best direction I have seen in Who, and Palmer's style was, for me, very reminiscent of Graeme Harper. Palmer knows how to handle Who, and it shows in buckets.
Oxygen is written by Jamie Mathieson, who is, of course, an old hand now, and boy is this evident. Once the TARDIS crew materialise on the ship the action DOES NOT STOP until the epilogue. Everything is believable and well thought out. From the tech to the characterisations of the guest stars. This is sterling stuff.
However, there is a little bit of guff. I truly hate to single him out, as I think this may be Moffat's brief for the character and not his fault, but Matt Lucas's Nardole has started to grate on me. At the beginning of this story, he is brilliant. I adored how persistent he was at trying to get the Doctor back into the TARDIS and back to Earth to watch over The Vault. But as the episode went on, he just became the obligatory comic stooge. I've never been a fan of an obvious comic stooge, so this might be just me. There is also another reset button that puts right MOST of the carnage, but without re-setting, there really would have been no way back.
Negativity aside, there is a lot of continuity in this episode, for starters the nod back to the second story of classic Who (I don't need to tell you which one!), where the Doctor lies about the fluid link. There are also a number of ongoing themes, Artificial Intelligence being one of them, and racism another. As a viewer, you are not quite sure where to look when a blue alien accuses Bill of being racist. Bill is obviously mortified, but at the same time realises that her actions did cause offence finding that the boot on a very different foot. As well as continuity, there is a familiar feel to events. The space suits reminded me of those in Silence in the Library and Forest of the Dead, especially with the flashing coloured bars that show the level of oxygen left. The gritty interior of the space ship harked back to The Impossible Planet and The Satan Pit. I was also reminded at points of The Robots of Death and The Sun Makers. While on the subject of capitalism, there is an instantly classic line in Oxygen that sums up the whole of this story - "We're fighting the suits!"
I thought last weeks Knock Knock was a bit of a misstep, yes it was a good story, but it all unraveled rather quickly in the end. I always judge Who by it's re-watch value, and I can't see me revisiting Knock Knock again anytime soon. Oxygen, however, has the feel of an instant classic, the best in the season so far, and probably up there in my top three Capaldi episodes. I promise - Oxygen will leave you breathless and is sure to absolutely max you out on that adrenaline.