Friday, 21 April 2017 - Reviewed by Martin Hudecek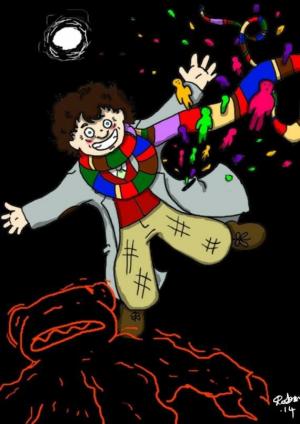 The Unofficial Doctor Who Limerick Guide
Compiled By: Jenny Shirt and Christopher Samuel Stone
LIMITED RUN - available in Hardback and Paperback
Please see the social media link:
https://www.facebook.com/doctorwholimericks/
There Once Was a Limerick Book~
Using Old Legends as a Hook
Covering Over A Hundred Pages..
... A Dozen Time Lord Stages
It truly demands a good look.
[Reviewer's Own Summary Limerick]
---
Although limericks are designed to be light hearted through their very nature and fixed structure, the book is for a very worthy cause in MIND. This charity is one of the most renowned in its sector, and one of a number of causes that has been given further credibility and support by Great Britain's very own Prince William and Kate Middleton. (And as we know the Queen is as loyal a Who fan as any in the history of royalty).
Dozens of contributors feature in this collections, and there are likewise dozens of accompanying illustrations - some are simple 'motifs' and some would look handy gracing a proper comic strip or cover art for a book. Each of the Doctors feature in full colour glory, with a selection of their stalwart companions. Amongst the majority of names that are perhaps less well known in fandom, are some of the more prolific and important literary authors to grace Doctor Who over the years - such as Andy Lane, Jonathan Morris, and John Peel.
Each of the contributions was carefully chose, and the editors have thoughtfully arranged different waves of limerick in either thematic or Doctor 'era' order. I appreciated how actors' names and characters or types of races were mixed together in the same piece at times - perhaps highlighting also how effective Doctor Who tends to be in its escapism, even if much of its history had barely sufficient production values for the sheer ambition of imagination.
I also enjoyed just how irreverent the fans/contributors could be with supposedly sacrosanct 'classics'. To my mind anyway, part of being a dedicated fan is to sometimes accept its limitations, but still embrace them in the right spirit. The Tomb of the Cybermen has perhaps suffered of late with the 'return' of its Season Five colleagues – The Web Of Fear and The Enemy Of The World - but is still essential viewing. Plot logic for this long-lost story was never its strongest feature, and whilst the effects for the emerging Cybermen from their hibernation pods do work in glorious black and white, there remains the certainty that cling-film is one of the cheaper props available (even back in the late 1960s). Both these aspects are mentioned in Kingsley Clennel White's sharply written piece.
The limericks are pitched at both the highbrow and lowbrow levels, with some managing to make sense to children, without being too obviously risqué – and yet still working on that adult level.
But even in the space of five lines, with an overly rhyming 'gimmick' there is every so often a truly poignant example in the mix. The Third Doctor's death and the "tear" is brilliantly brought back into focus by Callum Stewart. An ambiguous picture – which could be argued is Alpha Centauri shedding a tear from his/her/its lone eye - manages to really hit home just what a monumental moment in the show's history was the passing of the torch, from one amazingly magnetic leading man, to another of the same calibre (though markedly different in his image).
Then there are three whole sections, containing work on Four Doctors at a time, which manage to summarise their key raison d'être but also how they met their end. At the time of writing - despite plenty of speculation - we still do not know the exact end for the Twelfth Doctor, but the limerick confidently acknowledges this, and simply describes his demise as a "crash".
This is a very nicely done collection, which never takes itself too seriously, but is designed to help those across space and time (and in particular on our planet) who do not have the easiest of existences. A 'Song Book' which promises to reveal the real reasons behind some stories' conception, is mentioned as being available in the near future. On the evidence of this pleasing compilation, the follow-up should be much anticipated, and hopefully lead to yet more, further down the Time Lines.