Thursday, 11 August 2016 - Reviewed by Matthew Kilburn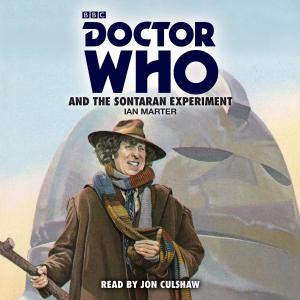 Written by Ian Marter
Read by Jon Culshaw
Released by BBC Audio on 7 July 2016
First published by W.H. Allen & Co. Ltd in 1978
Running time: 3 hours approx.
The Sontaran Experiment was the first two-part story to be novelized. Ian Marter's text provided a model for others to follow, selectively expanding scenes or reimagining situations and sections of the plot in such a way that the book didn't seem to have stretched its source material too thin in order to fill the 128 page count standard for Target in 1978. Not all his examples were followed by others, but Doctor Who and the Sontaran Experiment remains one of the most readable Target books. It's now one of the most listenable too.
The success of Doctor Who and the Sontaran Experiment as an audiobook owes much, of course, to its reader. Jon Culshaw is a versatile and sensitive performer and shows his familiarity with the television source material. His Styr (as Marter renames Styre, slightly Germanically) has a lot of Kevin Lindsay's bored colonial officer about it, but with an added note of cruelty to the hoarse voice in keeping with Marter's reinterpretation of the character. The Galsec crew members turn up with South African accents present and correct, all distinctive and all from Culshaw. Sarah Jane Smith is Culshaw talking slightly more lightly and gently, and Harry Sullivan not too different from Culshaw's narrator's voice, respecting the relationship between the authorial voice and Harry's viewpoint in Marter's first two novelizations.
A good number of listeners will be curious to know how far Jon Culshaw's fourth Doctor reflects his Tom Baker impersonation from Dead Ringers. Culshaw's Doctor is realized more sensitively and subtly here than it was in his comedy persona, though there are still more than flashes of it every time Culshaw has to talk in pseudoscientific jargon or reminisce about constellations visited. He enjoys the dialogue which Marter adds, creating a fourth Doctor a little closer to the Tom Baker whom Ian Marter knew, crossing over fiction and reality. The Doctor's rugby ball metaphor might have appeared on television, but certainly not his carrying around a flask of Glenlivet. We are assured, though not in precisely these words, that Styr would not have survived a night in the Colony Room with Tom and his Soho friends.
One of the great strengths of Ian Marter's writing, at least where his first two books were concerned, was that he took the sets and locations of the television stories and created something extraordinary from them while keeping faith with his source. The Dartmoor locations of The Sontaran Experiment on television become the foundation for a gnarled postapocalyptic landscape, full of monstrous ochre reeds and brittle, black ferns atop deep ravines and cavernous labyrinths. As mentioned above Styr is developed into a dedicated sadist by Marter, who writes of how Styr enjoys putting his subjects – particularly Sarah Jane Smith – through tortures far more horrible than anything realized on television. In contrast he Styre written by Bob Baker and Dave Martin is someone who can easily be read, in the words of one of my favourite reviews, as 'a harassed Biology student trying to complete his practical on time.' Marter's Styr, though, is a complex creation, a cyborg entity whose flesh is likened to plastic, seaweed, rubber and steel wool, and viewed by different characters in different ways. To Sarah, he's a noxious reptile and a bloated, snorting pig; to Harry he's 'Humpty Dumpty' and the Golem of Jewish folklore, as if spontaneously generated from the devastated Earth, though Culshaw's short vowels will make listeners think of Tolkien's Gollum.
There's a lot to intrigue in the writing, particularly the hallucinating Harry's successive threatening visions of Sarah. Perhaps Marter viewed Harry as jealous of Sarah's relationship with the Doctor, depicted as intense and trusting with Harry too often a third wheel. However, one of the more spectacular expansions is Harry's exploration of the Sontaran ship, a more complex vessel in the book than suggested on television, which not only allows Harry to be heroic but is read with a careful urgency by Culshaw.
Simon Power's sound design is appropriate throughout, especially in the torture scenes which are given suitably visceral cues. At about 180 minutes this audiobook isn't too long and writer and reader are good companions for a few hours. It's a small but determined sidestep into a reimagined fourth Doctor era, of interest to old and new audiences and an early indication of the elasticity of Doctor Who.