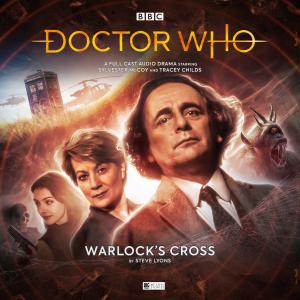 Written By: Steve Lyons
Directed By: Jamie Anderson
Cast
Sylvester McCoy (The Doctor), Tracey Childs (Klein), Blake Harrison (Daniel Hopkins), Genevieve Gaunt (Linda Maxwell), Richard Gibson (Colonel McKenna), Tom Milligan (Gregory Lord), Russ Bain (Lieutenant Colonel Lewis Price). Other parts played by members of the cast.
Producer Nicholas Briggs
Script Editor Alan Barnes
Executive Producers Jason Haigh-Ellery and Nicholas Briggs
This year's main range, 'UNIT' trilogy concludes with Warlocks Cross. So far the UNIT trilogy or the 'Daniel Hopkins' trilogy has been excessively dark, dealing with some incredibly bleak themes. The first, The Helliax Rift was a story that dealt with some interesting ideas in a way that had some gut-wrenching impact. The second, Hour of the Cybermen was an exercise in Sawardian nastiness and violent as a result. This final installment is no different. What results is an emotionally hard-hitting and bleak affair full of characters haunted by their past, be they Klein, Hopkins or UNIT itself. The story itself also certainly sits comfortably in that area of Doctor Who stories which can be described as having elements of horror within them. In short; it's bloody frightening.
Steve Lyons script concerns the Doctor arriving at UNIT in its dark period of the 1990's. When here he reunites with Dr. Elizabeth Klein and becomes embroiled in a mystery involving a forgotten psychic research facility, the titular Warlocks Cross and Daniel Hopkins, still alive after his part cyber-conversion. As I stated above, Lyons really has let his darker side come out here and those who were perhaps hoping for a more jolly installment in this year's trilogy may be disappointed. This is as adult as Doctor Who can get and the scenario he creates, allows for some interesting thematic scenarios involving themes of paranoia.
McCoy himself is wonderful here. After last months, The Quantum Possibility Engine allowing him to explore the lighter side of the 7th Doctor, it's great to see him return to the more sinister aspects of his interpretation. McCoy gives a very quiet and understated performance throughout, the sequences with Hopkins are some of the highlights, as this Doctor shows a distinct lack of sympathy and seems to play games with Hopkins. And what of Daniel himself? Well if there's one thing that has been consistently good throughout this year's trilogy, it's been Blake Harrison's performance. In the space of three stories, Harrison has taken an incredibly likable character and managed to transform him into one of best original characters Big Finish has created in a long time. Original Doctor Who Villains are a hard thing to create, but Hopkins must sit among the best. Of course, another talking point of this release is the return of Elizabeth Childs as Klein. Admittedly this isn't a Klein focussed story, she has a great deal of wonderful moments of course and she does get some character exploration, but she is very much a bit character here, which may disappoint some. However, Childs is great as always and honestly, it was refreshing to see a version of Klein more at peace with herself, despite a few underlying 'ghosts'.
All in all, Warlocks Cross, can be seen as a rousing success. This UNIT trilogy has been the highlight of the main range this year, resulting in some wonderfully rich stories full of depth. Here's hoping that we haven't seen the last of Daniel Hopkins!