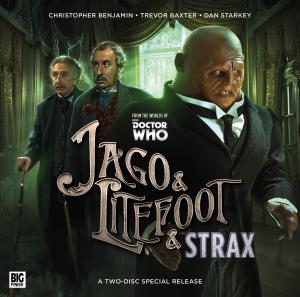 STARRING:
Christopher Benjamin (Jago),
Trevor Baxter (
Litefoot),
Dan Starkey (Strax), Lisa Bowerman (Ellie),
Conrad Asquith (Inspector Quick), Stephen Critchlow (Marvo) and Carolyn Seymour (Mrs Multravers)
Other parts played by the cast.

Written By: Justin Richards
Directed By: Lisa Bowerman
Sound Design:Howard Carter
Music:Howard Carter,
Theme by Jamie Robertson
Cover Art:Tom Webster
Released November 2015 Big Finsh Productions
Strax: a squat and fearless warrior, who has over time become domesticated and able to provide manservant duties to another being not of the planet Earth. He is still a handy fighter and possesses technical knowledge that puts to shame most of those who are native to the blue-green planet that the Sontaran is somehow learning to call 'home'. He has almost died on at least one occasion but for the most part is a lot harder to hurt and overcome than he would first appear, possessing disproportionate strength for someone of his stature, were he the human that he feigns at being.
Jago: a man with many a turn of phrase, and who despite his natural cowardice has seen and overcome various dastardly foes, or foiled a plan or two hatched by conniving traitors to Queen Victoria's regime. He ran countless good shows at the Palace theatre before later overseeing other stirring acts - for a range of clientele - at the Alhambre Theatre and (most recently) at the New Regency Theatres. Whilst sometimes prone to making careless errors, there is a native instinct hidden within which allows him to sometimes outwit those that underestimate him.
Litefoot: the man of intellect, travel experience and sophistication. He made much of his present living as a pathologist and is able to come up with practical solutions, sometimes using fine powers of lateral thinking. He has been the closest of friends with Jago and has become somewhat more of a outgoing character under the influence of the truly charismatic. Whilst playing somewhat of a secondary 'Watson' role to the Sherlock-like Fourth Doctor (in The Talons of Weng Chiang), he is clearly the more authoritative half of the pairing with Jago.
How Strax becomes a figure in the lives of Henry Gordan Jago and Professor George Litefoot is documented in this new story from a talented creative team, that have produced various winning Big Finish products over the preceding years to 2015. This play also forms one example of an increasing number of these spin off products to tie-in firmly with the New Series, by having arguably the most memorable of the 'Paternoster Gang' in a starring role. There is no direct appearance of the romantically linked Jenny and Madame Vastra - the former human, the latter Silurian - except for the device of Strax being concussed and later 'duped' into believing Jago and Litefoot are his two female associates..
The play is an absolutely engaging (and relatively straightforward) affair, with experienced writer Justin Richards knowing how to satisfy long-term fans, as well as those who have previously enjoyed Jago and Litefoot on audio, and also any who may only know the Matt Smith era which had multiple uses of the Paternoster gang. By making the focus on character, there is little danger of losing track of the plot should a listener be distracted whilst out on a walk or doing some other activity at the same time. And the characters are all portrayed well enough that we can infer there is more to their lives than just the heady adventures they embark on.
A great opponent is always vital to an adventure really cementing its place in the listener's memory banks, and we have a creepy old lady who is after the dissected 'smarter' brains of any half-civilised life that she comes across. Some people pay the price for taking the time to answer he queries, and some are fortunate to be just that bit too dim. We would normally revel in the comeuppance for such a character, but both the writing and the acting for Mrs Multravers are very strong. Thus the twist involving her motivations comes off as that bit more credible, and the climax to the main plot takes up a different feel, that avoids the usual recycling that could have happened were the premise in less capable hands.
Extras:
A serviceable enough documentary showing how much the regulars are enjoying the chance to work with Dan Starkey in his role from the main 'parent' TV series; although he has graced audio plays like this before in other roles. There perhaps could be a little more revelation and light-heartedness going on, when comparing the behind-the-scenes' vibe to some other ones that have graced Big Finish's output. At around 15 minutes it also feels just a touch too short.