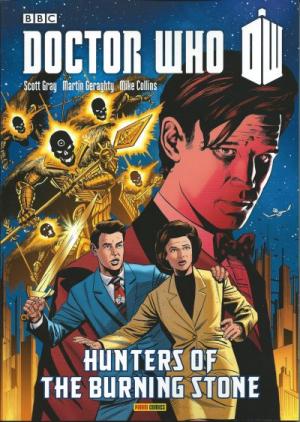 Written by Scott Gray
Artwork by Martin Geraghty & Michael Collins
Paperback: 164 pages
Publisher: Panini UK LTD
The Eleventh Doctor's comic adventures from Doctor Who Magazine continue in his third volume, Hunters of the Burning Stone. Like the previous volume, it only features half of writer Scott Gray's story arc, but at least this volume features the conclusion to the whole thing. The two volumes should have been collected into one slightly larger volume, but as that did not happen, I suggest getting both and reading them back to back, because it is a pretty satisfying storyline.
This volume also collects together just three stories, the first two seeing the end of Amy and Rory's time on the strip. The opening story takes place in 1989 Prague, around the time the Soviet Union was falling apart. It continues some of the elements that began in The Chains of Olympus, and setting up some key elements for the storyline's major finale.
The second story "Imaginary Enemies" is a one-off that unrelated to the rest of the arc, and doesn't even feature the Doctor. Instead of showing us an adventure of Amy, Rory, and Mels as children, though the events are only remembered by Mels (AKA the eventual River Song). The ending of this story is a nice little tribute to Amy and Rory, giving us a glimpse into what their life was following their departure from the Doctor at the end of The Angels Take Manahattan.
The final story is a longer-than-usual adventure, which saw the return of First Doctor companions Ian and Barbara, concluded up the ongoing arc involving Psychic metal, was a bit of a sequel to the first serial in the show's history (An Uneathly Child), and served as the comic strip's 50th Anniversary Celebrations. This is not only the best story in the collection but probably the best story in the whole arc. Reading it only made me wish that both volumes were collected together more...as the stories featured in the last book were solid, but they rather need this conclusion to make them all the more satisfying. Breaking them up does a disservice to both. It's a well-told tale, with lots of nods to the show's history which add flavor to the proceedings, rather than feeling like the entire point.
I would definitely recommend reading both books (The Chains of Olympus and Hunters of the Burning Stone) back to back. Splitting them up is an odd choice, as these collections, Panini puts together usually make a lot of sense. Still, both volumes are good reprints of the stories, with the usual commentary. If getting both is not an issue than you get the whole story. But it does seem a shame to have to pay about the same for both books when they each feature only a half of the complete story.