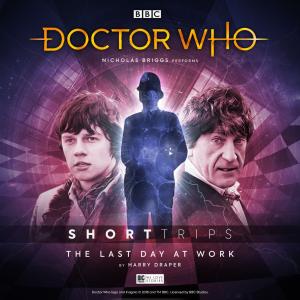 Producer Alfie Shaw, Script Editor Alfie Shaw
Executive Producers Jason Haigh-Ellery and Nicholas Briggs
Written By: Harry Draper, Directed By: Alfie Shaw
Cast
Nicholas Briggs (Narrator)
Constable Bernard Whittam is in for a special evening. Finally retiring from a lifetime in the police force, he's celebrating with friends, family and the woman he loves. It's all perfect. Apart from the noise in his head, the wheezing, groaning noise that has haunted his entire life. That and the unusual gatecrashers.
It's going to be a night to remember…
The Last Day At Work is a very poignant, title for one of the best Short Trips I have listened to yet. The story features the Doctor and Jamie, and is set in 1968.
Apart from the synopsis above, I'll let you discover how the story unfolds as you listen to it, there is a simple joy in this second Doctor tale that should never be ruined, or the story will lack the emotional punch that it aims squarely at your jaw. I did guess as to the direction that new(ish) writer Harry Draper was taking the listener....however I didn't fully realise exactly how deep into the shows rich mythology he would delve, so much so to create a new mythology all of his own.
Nicholas Briggs is on narration duties, and makes for a mighty fine second Doctor....although I did think that his version of Jamie was some way off of the mark. However this is a minor quibble, as the Short Trip range is always more about story telling as opposed to full cast audio plays.
I really can't recommend The Last Day At Work enough, and with it being part of the Paul Spragg Short Trips Memorial Opportunity the story is FREE, and can be downloaded from Big Finish HERE.
DID I MENTION THIS STORY IS FREE? GET DOWNLOADING PEOPLE!!!!