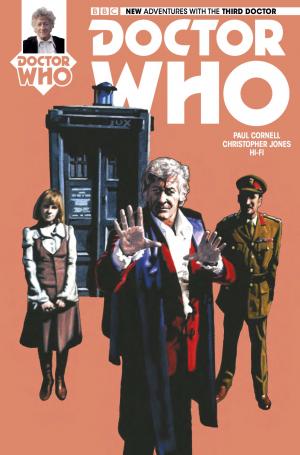 ISSUE 5
(On Sale: February 22nd 2017)


Writer: Paul Cornell

Art: Christopher Jones


Colorist:

Hi-Fi

AVAILABLE
as either a digital download,
or from comic stores/ online shops

TITAN COMICS
The final stanza of this miniseries sees an (overly rare) foray into the past for the grey/silver-haired Doctor that helped UNIT overcome all manner of enemy from both home and far, far away.
I will openly state in this review that the main opposition comes in the form of the despicable would-be world dictator Ramon Salamander.
This evil 'double' of the charming Second Doctor had been masquerading as his lookalike, having established himself at a scientific research institute and begun work on exploring dimensions outside of the commonly recognised Height, Width and Depth.
Now both Salamander and the combined group of principal UNIT members, the Doctor, Jo Grant, and the constantly-fickle Master have arrived in Parliament back at the tail-end of the 19th Century..
The Mexican despot is attempting to use his powers of persuasion, as have worked both in the future time of his origin, as well as the Mid-Twentieth Century. But stout-hearted men of Britain, who are pioneers in the sphere of democracy, are not the easiest to manipulate.
The Doctor makes his entrance in the Commons and is perhaps more effective. But ultimately, it will take something a little special from the shakily assembled alliance of Time Lords, and the more modern Earthlings, to see off the monster of Merida.
****
This miniseries has been a real treat, and this climax to the storyline does everything one could hope for. There is no dawdling, or self-indulgence in terms of pleasing ever-loyal fans with in-jokes. A focused and urgent pace is maintained throughout, and some pleasing moments of incident and drama - couple with some political satire - makes this a very effortless read.
The art continues to be a highlight, and shows how the team that helped Doctor Who become a colour Saturday night phenomenon would have coped with the challenge of showing the London of yester-century.
The whole mini-series really needs to be read issue by issue to work most effectively, which is a difference from perhaps some of the other ones Titan have presented to readers in the last couple of years. But the effort is more than rewarded, by an artistic team who clearly love both Doctor Who, and the wonderful personality that was the Third Doctor.
I know I am not alone in wishing that this is the start of a new era for a re-exploration of one of the more traditionally 'human' Doctors in the saga. Whilst the much-respected Paul Cornell has stated at the Gallifrey One convention that he will not return to Doctor Who (or any other licensed work), one can only hope this is not indefinite.
Regardless, the platform is now there for future adventures through Space and Time, that have something both nostalgic, but also something pertinent to the world we live in today.