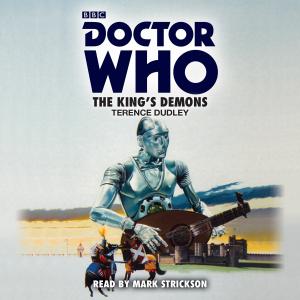 Written by Terence Dudley
Read by Mark Strickson
Duration 5 hours approx.
Released 5th May 2015 (buy from
Amazon UK
)
We're told that there is a fashion for slow television now, the latest Nordic trend to be picked up by BBC Four. Terence Dudley's novelization of The King's Demons is perhaps best appreciated as slow Doctor Who. However, this is no sleigh ride or canal journey. Listening to the audiobook of the story, it feels that every incident is subjected to multiple assessments and every epithet is sent in search of a synonym and in due course an antonym.
Terence Dudley's practice as a drama series producer was often to emphasise his guest cast at the expense of his regulars. Something similar happens in the book of The King's Demons where Dudley seems to feel his audience should be more interested in his own creations than they are in the Doctor, Tegan and Turlough. This would be less of a problem were Ranulf Fitzwilliam, Geoffrey de Lacey and the rest better-developed, but instead the listener learns little more about their backgrounds than was disclosed on television. One isn't actually sure whether Dudley likes the Doctor and Tegan all that much. The Doctor is often priggish, smug and prone to supercilious disclosure of information. More uncomfortable is the characterization of Tegan: to be Australian and female is enough. Once Ranulf has decided that she must be a succubus – a demon who seduced men and weakened and killed them through sexual activity – Dudley likes to return to this as often as he can.
The King's Demons has less plot than it has situation, and Dudley seems more interested in this than in story. Dudley likes to play a little with the vocabulary of material culture – he's fond of people drinking from stoups, for example – and there is more in the text to correct the idea that Pip and Jane Baker had a monopoly on arcane and archaic wordplay in 1980s Doctor Who. The King's Demons is painted on a small canvas but at least it has detail. Sadly a lot of that detail undermines its effectiveness. Archaic vocabulary if not used well can make an author seem self-satisfied. As for its sense of political history, Dudley seems to have read a book on King John which sought to revise conventional assumptions about his reputation, but then misunderstood it. In the novelization, Dudley not only repeats his dubious assessment that Magna Carta should be seen not as a baronial victory over the king but as an expression of enlightened royal policy, but then suggests that the charter King John signed in 1215 wasn't as important as a later revised reissue under his son Henry III anyway. This may have something to it, but it only emphasises the oddness of the Master's quest to prevent Magna Carta from being signed.
The source novelisation might be problematic, but this production does its best to overcome the material. Mark Strickson is a polished and sensitive narrator and the music cues are used with restraint and to good effect, though this version misses the lute playing and Strickson doesn't attempt to sing King John's song. His Tegan makes one wince but this accurately reflects how badly she is served by the book. Strickson does handle the many two-handed scenes of confinement well, especially the interrogation of Turlough by Sir Gilles Estram. The latter is one of the stronger characters in the book, despite his being a performance by another character, the Master. Strickson's French accent is more thoughtful even if just as theatrical as Anthony Ainley's was on television. The story, such as it is, is full of outsiders being cast as other people – the TARDIS travellers as demons, the Master as Sir Gilles, Kamelion as King John – but it ends with their Fitzwilliam hosts and the audience wondering what it was all about.
Sadly this is an audio adaptation for completists and the especially curious only. Terence Dudley's grasp of what made Doctor Who work doesn't seem to have been strong, and his belief that Tegan was still at this stage seeking to return to 'London Airport' (itself an anachronism in the 1980s) speaks of his detachment from the series' continuing storylines. The effort of BBC Audio in bringing this to release is appreciated, but it's a good thing that there remain better books than this to adapt in the novelization range.