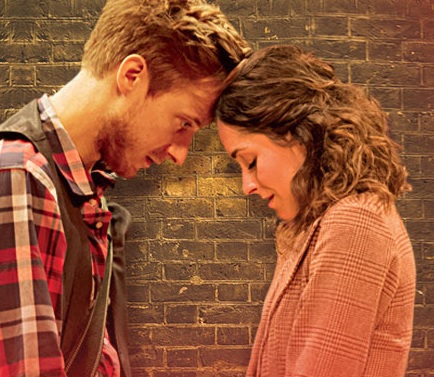 Playright: Enda Walsh
Music and Lyrics: Glen Hansard, Markéta Irglová
Director: John Tiffany
Opened New York: 6 December 2011
Opened London: 9 April 2013
Current London Cast: Arthur Darvill, Zrinka Cvitešić, Fiona Bruce, Mark Carlisle, Jamie Cameron, Matthew Ganley, Mathew Hamper, Allison Harding, Daniel Healy, David Hunter, Loren O'Dair, Tim Parker, Miria Parvin, Tim Prottey-Jones, Sophie Reid, Christina Tedders, Alex Turney, Jez Unwin, Ruth Westley, Robbie White
Phoenix Theatre, Charing Cross Road, London
Once, A New Musical
has been running in London's West End for over a year now, but its latest star has drawn a new crowd of Doctor Who fans, as
Arthur Darvill
takes over the role of Guy for the next month.
The role is a very different one for Darvill, far from the reluctant hero Rory dominated by his assertive wife, and patrons expecting to see a musical version of Rory will be disappointed. But in the role of Guy, Darvill is outstanding. It is a role he has played on Broadway and one in which he excels, bringing a reality and grit to what could be an over-sentimental piece.
The musical takes place at the Phoenix Theatre in London, but on entering the auditorium you find yourself in a Dublin bar. Indeed, a real bar with real drinks being served stands at the back of the stage, with members of the audience being encouraged up to spend some money and listen to some good Irish music. It's a very clever device which puts the audience in the centre of the action from the very start, literally mingling with the show's cast, and you hardly notice when the stage managers gently move the audience members into the stalls and the action begins.
In the show Darvill plays a Dublin busker and vacuum cleaner repair man, pining for a lost love. It's a role he seizes with relish and it gives him a chance to return to his musical roots. He belts out his numbers with a passion and energy that lifts the whole show. He has a fine strong voice and as he pours his heart into the songs you really feel his pain, passion and frustration.
In the story he meets a young Czech woman in the bar who is moved by his music and they start to fall in love. The girl is played by Zrinka Cvitešić who has been with the production since its London premiere and who is delightful in the role, bringing a playfulness and vitality and a zest for life to the role, which sees her tease and cajole Guy into performing his music and bringing him out of the depression he was mired in.
The whole cast perform their own music, and as the musical proceeds bring a whole raft of characters to life, from the girl's eccentric flatmates to the Irish bank manager with a hidden secret. The fact that there is no orchestra churning out a backing track, with all the music coming from the players on stage, again feeds into the reality of the show and draws the audience into the action.
All in all, it is a very entertaining evening. Darvill is with the London cast until 10th May, with the production booking into next year.
Arthur Darvill performing Falling Slowly (
YouTube
)
Arthur Darvill performing When Your Mind's Made Up (
YouTube
)
For more information on the production visit the
official website
or the Once, The Musical
Facebook page
.
Thanks to Dewynters